JEATH WAR MUSEUM - KWAI - Thailand.
The JEATH War Museum is one of two war museums in Thailand about the Death Railway built from 1942 to 1943 by Allied POWs under the direction of the Japanese, a part of the famous Thai-Burma railways.
The acronym JEATH stands for the primary nationalities involved in the construction of the railway: Japanese, English, Australian, American, Thai and Holland
The museum is divided into two sections, one depicting the construction of the Death Railway which is meant to recreate the quarters used by Allied POWs, and the other consisting of reconstructed bamboo huts containing such items as paintings, drawings and photos of and by former prisoners, weapons, tools, and maps.
This tribute was established to show actual items that were connected with the construction of the Death Railway by POW's between 1942-1943.
The first thing that strikes you when you visit the museum is the bamboo hut with a collection of photographs displayed. The hut is a replica of the conditions the POW's were forced to live in.
The museum displays graphic images of the terrible conditions inflicted on the many young men that died and the many that survived to tell the story.
To bring these atrocities to the public domain, the museum exhibits many photographs taken of real situations either by Thai's or POW's.
If you try to Google it, theres barely any information about the museum, other than its address. I think it has got some magnificient objects from history, and its goal to bring awareness about the cruelty on POWs is bluntly and straightforwardly conveyed. So much so that even the experience of stink, leaking roof and muddy ground, adds to the connect.
The privately owned museum seems to be in a constant state of renovation, yet the displays are rather poorly maintained, and there's very little order to the exhibits. The English translations of signs and labels are among the worst you will see in any museum.
Also, very little information is given about the exhibits. Like the bombs section has a small but impressive collection of various sizes of bombs. There is one large bomb away from this section (assume placed away since there was no space in the bomb section). This bomb was apparently the one that missed hitting the bridge at first, and sank in river. Apart from a few lines about it, nothing about its make, who shot it, how was it found - nothing is mentioned. Which is a true pity.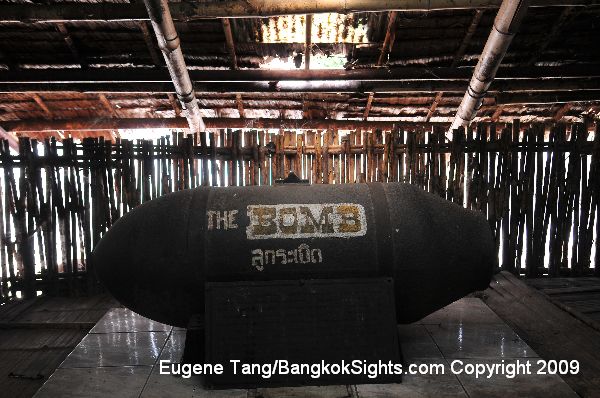 Inspite of it all, it is one museum that haunts me and intrigues me at the same time. Its poor display of the most interesting objects, does very little to being on the top tourist visited locations in Kanchanaburi.
(Note - since photography is not allowed inside the museum, the images are downloaded from the internet)